FREE FOR A LIMITED TIME!
Book one in the Charming Inn series.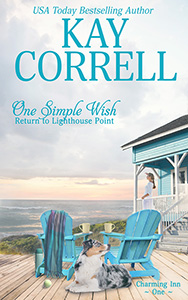 One Simple Wish
Amazon.com
Apple Books
Nook
Kobo
Google
Amazon international
(Amazon is wavering with international pricing. If you go to a site other than the .com and the price isn't free, check back later. Sorry.)
or it you prefer the paperback, it's still available for purchase:
PAPERBACK
Sometimes everything is not exactly as it seems…
When her aunt is injured, Sara hurries back to Belle Island to help out at Charming Inn. She's sure she can run the inn and work remotely for her job back in Boston. If only she can juggle all of it…
But what are the chances she'd run into Noah McNeil after all these years and what is he doing on her island? He disappeared from her life in Boston without a word over twenty years ago. And now he has a dog? He always swore he didn't have time for pets…
Sara and her two best friends
, Robin and Charlotte, struggle to keep Charming Inn running while Sara struggles to ignore Noah completely.
But maybe, just maybe, Noah isn't quite the man she thought he was.
Join these three best friends and the familiar people of Belle Island in this delightful spin-off of the Lighthouse Point series.
This is book one in the Charming Inn series:
One Simple Wish – Book One
Two of a Kind – Book Two
Three Simple Things – Book Three
Four Short Weeks – Book Four
Five Years or So – Book Five
Six Hours Away – Book Six
Charming Christmas – Book Seven