Are you ready for a new book in the Blue Heron Cottages series? Book four, Restaurant on the Wharf, is available now!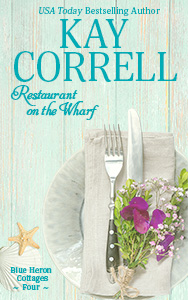 What if your best friend returns to town and helps you snag a date with the guy you've had a crush on since you were sixteen? That would be fabulous. Or would it?
Tara helps her brother run their family's restaurant in Moonbeam. Not that their parents will ever let them change a single item on the menu or anything else. Her life is strikingly the same
, day after day, year after year.
That is until Tara's best friend, Joey, shows up at the restaurant when he returns for their twenty-five-year high school reunion. He works on helping her snag a date with Lance, a guy she's had a crush on since she was sixteen.
Not that she'll admit she's still crushing on Lance. Not that Joey believes her protests.
Joey thinks Tara is too good for Lance. If only Tara would look at him, the way she looks at Lance…
A disastrous first date convinces Tara that Lance is out of her league. Joey wants to deck the guy. But nothing tops what happens at the actual reunion.
The book can be read as a standalone or pop back to book one, Memories of the Beach, and binge the series. From a USA Today Bestselling Author. Grab Restaurant on the Wharf and dive into this charming beach read.
Memories of the Beach
Walks along the Shore
Bookshop near the Coast
Restaurant on the Wharf
Lilacs by the Sea