Ready to try a new series? How about the new Moonbeam Bay series? Try book one, The Parker Women!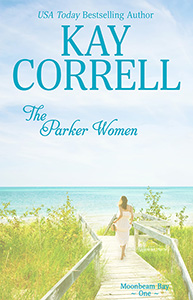 Amazon
Amazon International
Apple Books
Nook
Kobo
Google
Paperback

Meet the Parker Women…
Donna and Evelyn, two fifty-something sisters who live in the small town of Moonbeam on the lovely Moonbeam Bay. Evelyn is known for her culinary skills and orchestrating every charity event that crosses her path. Donna runs the Parker General Store that has been in their family for generations
, ever since Grace Parker and her husband opened it. The town of Moonbeam has always referred to all the women descended from Grace Parker as "the Parker women."
Their daughters, Olivia and Heather, are more than cousins, they are best friends and born on the same day.
Donna's daughter, Olivia, helps out at the store and has big plans for it—if Donna would ever give her a chance to implement any of them.
Evelyn's daughter, Heather, is a well-known illustrator who pops into town now and again—just what is she hiding from?
Then there is the matriarch of the family, Patricia. She's rather—difficult.
Read the heartwarming saga of The Parker Women, their friends, and family in the new Moonbeam Bay series.
And if you're familiar with Kay Correll's other books? Camille Montgomery is in book one of this series and just wait to see what happens with her!
MOONBEAM BAY – the series
The Parker Women – Book One
The Parker Cafe – Book Two
A Heather Parker Original – Book Three
The Parker Family Secret – Book Four
Grace Parker's Peach Pie – Book Five
The Perks of Being a Parker – Book Six