Wedding on the Beach, book two in the Lighthouse Point series.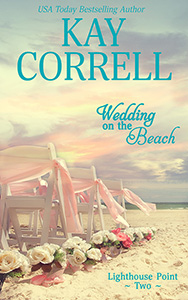 Amazon . com Store
Cindy Pearson is getting her wish — the perfect wedding on Belle Island. As she dodges a steady stream of obstacles that threaten to thwart her plans, she can't quite avoid her nagging doubts about her fiancé.
Jamie McFarlane has one wish — to make a success of the coastal inn he and his mother inherited. He gets his chance to boost the inn's reputation as a premier wedding destination by putting together a perfect wedding for his childhood friend, Cindy. There's only one problem — as Cindy and Jamie rekindle their relationship, he realizes his feelings run deeper than mere friendship.
If he gives Cindy the wedding of her dreams, he'll miss his one chance with her. If he stops the wedding, he'll crush her dream and lose his opportunity to save the inn.
Sometimes, the wishes a person makes don't come true — and sometimes unspoken wishes are the best wishes of all.