~Romance in a small southern town.
THE SHOP ON MAIN: Book One of the Comfort Crossing Series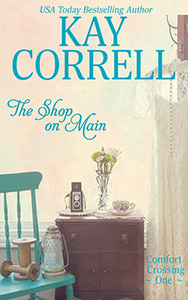 Available at these retailers, click on their link to purchase.
AMAZON
NOOK
KOBO
APPLE iBOOKS
Google Play
Paperback
Sometimes, doing the right thing backfires… spectacularly
Bella Amaud is desperate when she learns her business and the home she lives in with her two boys are about to be whisked out from under her. As she scrambles to maintain her fragile financial security and independence, she fears she may lose more than just The Shop on Main and her home.
Nothing is working out like Bella planned—she finds out the man she is falling for, Owen Campbell, is the businessman at the center of all her problems.
Owen has secretly longed to belong—somewhere—anywhere—his whole life. When he decides to give his long-lost brother, Jake, back his birthright, he unknowingly thwarts his briefly held hope of a place where he can put down roots and a family he longs for.
Nothing is working out like Owen planned—neither Bella nor Jake want anything to do with him.
How can a man who is used to being in control and a woman determined to make it all on her own find a way to happiness?
The Shop on Main is Book One of the Comfort Crossing series. Bella and her best friends, Jenny and Becky Lee, navigate the heartaches and triumphs of love and life in the small southern town of Comfort Crossing, Mississippi.