Kay's complete Indigo Bay Collection at one great price!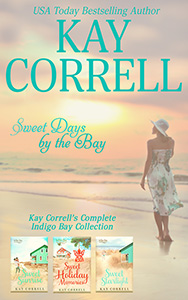 There's nothing better than spending some sweet days by Indigo Bay…
This is the complete collection of books by Kay Correll previously published separately in the multi-author Indigo Bay series. The three stories are all interconnected, of course!
SWEET SUNRISE:
Sometimes life has a way of teaching lessons whether you're ready to learn them or not…
The last place on earth Will Layton wants to be is Indigo Bay, but his younger sister, Whitney, needs him. He's never been able to say no to her. But she left out a few details… like their father staying with her and the girl who dumped him years ago is living right next door.
The last person Dr. Ashley Harden thought she'd see in Indigo Bay is Will Layton, but he's back in town and just as irresistible as when they were young. Seeing Will again is a complication that isn't on her carefully mapped out life plan.
In spite of Ashley's best intentions, she starts falling for Will again, but nothing has changed. She's still focused on getting the townspeople to accept her and see her as more than the girl from the wrong side of town, while Will is determined to guard his heart at any cost.
Not the easiest road to true love… especially when secrets from the past are revealed and history threatens to repeat itself.
SWEET HOLIDAY MEMORIES: (a short holiday story)
Sometimes a surprise from the past changes the future forever…
Meredith Snowden — who by some strange twist of fate has the nickname Merry — avoids everything to do with the holidays. Everything.
Her best friend, Whitney, has given up trying to change Merry's ways.
Except…
This year Merry's in charge of the holiday bake sale. Not the best way to avoid Christmas.
Then Austin Sullivan returns to town and literally runs into Merry sprawled on the sidewalk among boxes of smashed cookies. Austin is all about Christmas and offers help with the baking and the sale. Merry's carefully hidden memories of Christmas past begin to resurface.
Will Austin's love of the holidays and a single lost ornament bring the magic of Christmas back into Merry's life?
SWEET STARLIGHT:
Sometimes worlds collide and sparks fly and things don't turn out as planned…
Whitney Layton doesn't recognize the actor who comes into her shop and commissions a custom jewelry piece for his grandmother's birthday gala.
Rick Nichols doesn't know if he's upset or thankful that Whitney doesn't recognize him. While he longs to become more well known so his family will finally think he's made a success of himself, he enjoys hiding out anonymously and being just an everyday normal guy.
As Rick's best-laid plans for his grandmother's party fall apart, Whitney steps in to help him. But as things heat up between them and the press catches wind of their relationship, their photo is splashed all over social media.
Whitney wants nothing of the limelight nor does she believe Rick will ever be happy with a small-town businesswoman who wants nothing more than to live out her life in Indigo Bay. She doesn't need to add one more name to the list of people she's cared about who have left her.
With Rick's career plans at stake, they are both forced to decide what they really want out of life… and if their personal choices will prevent them from ever being together.