I have a holiday surprise for you! The Comfort Crossing Holiday Collection is only 99 Cents for a limited time. Need a break? Grab the collection of two short ebooks from the Comfort Crossing series. (Book 2.5 – The Christmas Cottage and Book 3.5 – The Christmas Scarf)
They are each standalone stories, so jump right in, even if you haven't read the series.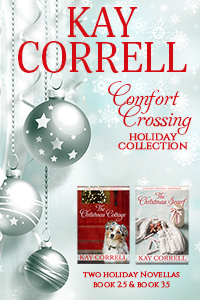 Amazon US
Amazon International
Apple Books
Nook
Kobo
Google
Or if you prefer the paperback you can get it here at regular price:
PAPERBACK
Happy holidays and happy reading! Enjoy!