Another book in the Lighthouse Point series!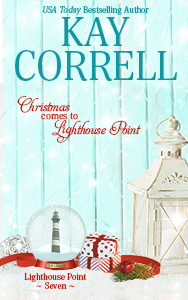 CHRISTMAS COMES TO LIGHTHOUSE POINT
~ Book Seven ~
Amazon
Apple Books
Nook
Kobo
Google
Paperback
Amazon CA
Amazon UK
Amazon AUS
Molly Croft returns to Lighthouse Point to clear out her aunt's cottage. Not that Shannon was really her aunt. She was her mother's best friend until… she wasn't. Molly spent every summer and Christmas on the island until she was twelve. Her mother and Shannon had a huge blowup and they'd never returned to the island and she'd never seen Shannon again.
So why had Shannon left the cottage to her in the will?
Wade couldn't believe Molly was back on Belle Island. He hadn't seen her since she and her mother mysteriously disappeared thirty years ago.
As they renew their friendship, Wade helps clear out the cottage—who knew Shannon was a hoarder—and they began to unravel the mystery of what had happened all those years ago. Why Shannon and Molly's mother never spoke again.
Secrets slowly untangle with life-changing consequences.
Will a wish made at Lighthouse Point thirty years ago finally come true?