Christmas by the Bay – Coming November 13, 2023
Preorder Now!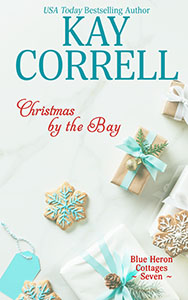 Violet is all about the holiday season this year — her first one as owner of Blue Heron Cottages. But what she isn't expecting for Christmas is meeting Danny Parker – no relation to the Moonbeam Parkers. Danny and his daughter come to stay at the cottages for the holidays and his daughter is not pleased. At all.
Rose returns to the cottages to be surrounded by friends, but her heart aches as she prepares to spend her first Christmas without her beloved Emmett.
Aspen is sure Walker is hiding something. Or maybe he's losing interest in her… Then, to make things worse, her sister cancels plans to come to the cottages for Christmas.
Can Moonbeam and the Blue Heron Cottages weave their magic and provide the perfect Christmas for everyone?
Continue on with the Blue Heron Cottages series, a touching saga of love, resilience, and the profound connections we stumble upon in the unlikeliest of places. It's a journey through love, loss, and ultimately, the transformative power of friendship.
Google – Coming on Release Day
PAPERBACK – Coming Soon