Bookshop near the Coast
Book three in the Blue Heron Cottages series
Available NOW!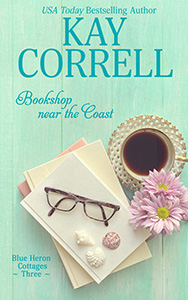 Amazon.com
Apple
Nook
Google
Kobo
PAPERBACK
Other Amazon Countries:
Amazon CA
Amazon AU
Amazon UK
Collette owns the Beachside Bookshop in the charming town of Moonbeam. She's an avid reader and the shop is her dream come true. She has everything she's ever wanted or needed, right?
Mark comes to town for a highly suggested vacation. Okay, more like a vacation required by his boss after an incident at his workplace. An incident he feels is his fault.
He stays at Blue Heron Cottages and Collette befriends him. Wouldn't you know the one person he starts to like, owns a bookshop. Only… he's definitely not a book person. She's well-read, well-traveled, and so smart. He's… none of those.
Collette can tell that Mark is hiding something, but nothing she says or asks gets him to open up. His reaction to a horrible accident right in front of Sea Glass Cafe confirms her suspicions.
But Mark still won't talk and she's convinced there's no future for them if he can't be honest with her. And Mark isn't sure he can share his terrible secret.
Oh, and there's a wedding in the book, too. But who's getting married? One of your favorite couples!
Try book three in the Blue Heron Cottages Series.
Memories of the Beach – Book One
Walks along the Shore – Book Two
Bookshop near the Coast – Book Three
Restaurant on the Wharf – Book Four (coming March 2023)
And more to come!