Grace Parker's Peach Pie is here! Yay! It's book five in the Moonbeam Bay series. This is Evelyn's story.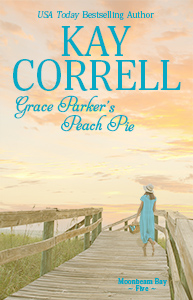 Evelyn is thankful that Parker Cafe—oops
, Sea Glass Cafe—is finally profitable and growing. The townsfolk love to come in for the sweet, mouthwatering delights she bakes… especially the old family recipe for peach pie.
But is it the peach pie that keeps bringing Rob Bentley back to the cafe, day after day?
Rob is in Moonbeam helping his sister, Violet, restore the very neglected Murphy's Resort. A resort she bought without consulting him and he thinks is a terrible idea. But when had Violet ever listened to his advice?
Heather and Jesse can't catch a break either. Their son gets into serious trouble at school. Trouble he swears he wasn't involved in, but all the evidence points toward him.
Read more about the lives of the Parker women. More secrets are revealed. And yet another town festival as Evelyn and Rob become friends… and maybe a bit more. Oh, and a wedding. But who's getting married?
Available on all the usual retailers. Ebook and paperback.
Happy reading!